Get personalized voice and data communication solutions. Your carrier network solutions should compliment your existing technology, optimize functionality to meet your business objectives and minimize your monthly expenditures.
---
A Competitive Edge
Position yourself for today's challenges and tomorrow's goals by investing in the right solution. SMB Solutions has partnered with several providers based on their product offering, network reliability, competitve rates and national presence. We can support your needs no matter where they take you.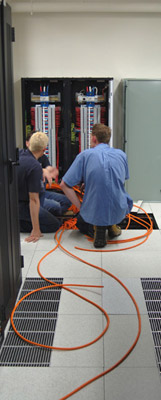 Voice Services:

Local Phone Service
Voice DS-1 Service
Local ISDN.PRI
Private Line
Dedicated and Switched Long Distance
Dynamic DS-1 (Voice & Data)
Voice over IP(VOIP) Trunks
Session Initiation Protocol (SIP) Trunks

Data Services:

Comcast Coax
Verizon Fios

Wireless Internet
Private Line
Multi Megabit Internet
Gigabit Ethernet
VPN
Firewall Managed Services
E-mail, Domain Registration, Web Hosting
---
Let SMB Solutions become your advocate when you have problems with your communication network. Leverage our expertise and gain piece of mind.
Prolong the life of your equipment with the proper power conditioning and cooling solutions.
---
Session Initiation Protocal (SIP) can be used to create two-party, multiparty, or multicast sessions that include Internet telephone calls, multimedia distribution, and multimedia conferences.
---
Our solutions combine products from multiple vendors that interoperate giving you the most out of your communication architecture.